Oticon Opn S hearing aids help you break free of restrictions and join the conversation in difficult listening environments.
A 360° sound experience with Oticon OPN S
Oticon Opn S comes with improved technology that gives your brain access to the relevant sounds around you.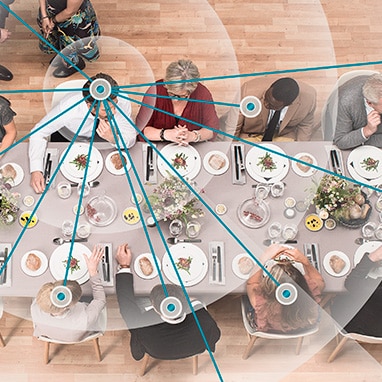 Studies prove that Oticon Opn S users can experience speech understanding at the same level as people with normal hearing in noisy environments.
The Oticon Opn S differs from most existing hearing aids in the way that it copes with noisy environments. Traditionally, hearing devices focused on one speaker at a time, whereas the Oticon Opn S gives you access to all of the sounds around you and gives you more control over what you want to focus on.
What does this mean? This means that less cognitive effort is required to understand speech, even when compared to the first-generation Oticon Opn hearing aids. This lets you join in and keep up with conversations even in really challenging listening environments, such as a noisy restaurant or dinner party.
No more whistling sounds
A groundbreaking feature makes Oticon Opn S able to detect and prevent annoying whistling sounds (feedback) before they even occur.
What is feedback? Feedback is a noise that occurs when sounds from your hearing aids escape and are reamplified by the hearing aid, such as when you put a phone to your ear or give someone a hug.
You hear with your brain
You don't hear with your ears, you hear with your brain. That's why you need hearing aids that are fast enough to keep up with the brain. BrainHearing technology in Oticon Opn S scans the environment 100 times per second. This gives you constant access to 360° sounds to support the way your brain naturally makes sense of sound.
Reduces your listening effort
Helps you remember more of what is being said
Gives you better speech understanding
Improves your ability to follow conversations with multiple speakers
Easily connect Oticon OPN S to your phone and other devices
Oticon Opn S is more than a hearing aid. It's a piece of wearable technology that makes it easier to connect to your favourite devices.
Your hearing aids become high-quality, wireless headphones, so you can stream phone calls and music directly from iPhone, iPad, or iPod touch.
With ConnectClip, it's easy to make hands-free calls with Android or any other modern smartphone. ConnectClip transmits the caller's voice to your hearing aids. The built-in microphone clearly transmits what you say to the caller.
You get sound from your TV into your hearing aids, using the Oticon TV Adapter.
Oticon OPN S rechargeable hearing aids
Oticon rechargeable hearing aids give you the simplicity of rechargeable batteries, the groundbreaking open sound experience, and outstanding connectivity to other devices.
It couldn't be easier to start using rechargeable Oticon hearing aids – and forget about changing batteries. You simply seat Oticon rechargeable hearing aids in their charger at night. They will be fully charged in the morning for a full day of hearing, including streaming.
They take just three hours to fully charge, so they're ready long before the morning comes. If you forget to charge, a quick 30 minutes of charging will provide another six hours of use.
Great design of charger
Connect your charger to a power source via the integrated cable. Easy to insert with one hand – there is no lid to open, and no need to turn off your hearing aids. Place hearing aids in the charging ports to automatically begin charging via contact-free inductive technology. Discreet LED lights let you see charging status at a glance – yet they won't illuminate your bedroom.
Lithium ion batteries
Lithium-ion battery technology is the latest generation of rechargeable batteries, known for holding more charge than earlier types of rechargeable batteries.
They have long been used in mobile devices such as phones and tablets, as well as cordless tools. And now that we've successfully incorporated lithium-ion batteries into hearing aids, you can get rechargeable hearing aids that last longer on each charge than earlier rechargeable hearing aids.
Boost your hearing aids with the Oticon ON App
The Oticon ON App provides discreet remote control of your hearing aids. It lets you adjust volume, change listening programs, or even help you find your hearing aids if you lose them. The ON App is also your connection to the wide variety of Internet-connected solutions through the IFTTT service.
Connect Oticon OPN S to the Internet of Things
At IFTTT.com, you can easily make your own intelligent connections. For example, your hearing aids can let you know when you receive an SMS message, when your battery is low, or when someone rings your doorbell.
Oticon OPN S gives you extra help when needed
With the new booster function in the Oticon ON App you can give your hearing aids an extra boost. A great advantage if you're in a situation where you need more help to understand speech better.
Hearing keeps you fit
Just like an exercise app, HearingFitness (through Oticon On) tracks hearing aid use and will be able to provide insights you can use to improve your health behaviours. The insights will be based on big data analytics that combine lifestyle and healthcare data with local sound environment analysis.
You can choose between four different hearing aid styles, available in a wide range of attractive colours: The small and discreet miniRITE, the rechargeable miniRITE R, the miniRITE T featuring a telecoil, and the powerful BTE PP.