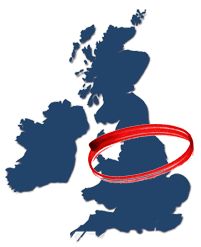 We are THE leading independent supplier of digital hearing aids in Halifax and the surrounding areas of West Yorkshire and East Lancashire.
As a local company (our state of the art audiology clinic is nearby in Silsden, near Keighley) we are able to offer a very personal and high level of aftercare to our customers, check out our testimonials page to check us out. We offer;
Low Prices – We regularly check the hearing aid prices of other suppliers and often beat them by up to 50%.
The Widest Choice – Unlike most of our competition we offer the FULL range of digital hearing aids from ALL suppliers.
Great Aftercare – We offer excellent aftercare, check out our Testimonials page to see what our customers say about us.
Letter by Mrs. M.D., Halifax

I've beaten the hearing hurdle! Hearing Loss? As we grow older we get smaller but the hurdles get bigger.
I have, thankfully, just conquered one. Not without help, I must add. Ask and you will receive.
Help came in the form of a tall handsome young man. Wonderful. Anything to do with hearing loss or hearing aids which Paul doesn't know about hasn't been invented yet.
We offer a ear wax removal service at our state of the art clinic if your ears become blocked up with excessive earwax. We particularly specialise in the microsuction technique of removing ear blockages.
(In some cases ear irrigation or dry removal is more appropriate, we use these methods where needed). We do not perform ear syringing, the three methods we do use are more effective and safer.