Phonak and Unitron Thin Tube – £5.95. When you select to purchase a left and a right tube at the same time a reduced price of £8.95 is available.
Phonak CROS Tube (specifically for Phonak CROS instruments ONLY and either a left OR a right tube) – £8.95 each – Please message us if you need a CROS tube. In your message we need you to specify the model of Phonak CROS you are wearing (it will be printed on the unit and also perhaps on your paperwork, the side (left or right) and the size of the tube required (the number printed on the tip of the tube, where the dome attaches).
This listing is for a thin tube and NOT for a hearing aid.
Please note – we only ship to UK postal addresses.
Phonak and Unitron have four versions of thin tubes. For all thin tube fittings previous to Phonak Spice / Unitron Era range (launched in 10/2010) we have Phonak Slim Tubes / Unitron Moda that have a screw fitting (thread inside the housing), and Phonak Micro Tubes / Unitron Moda II that are a pop fit. Image of Micro Tube (Moda II tube) below.
Newer Phonak and Unitron hearing aids from approximately 2011 onwards through to (but not including Phonak Marvel / Unitron Discover Next / NHS Sky M and Nathos Nova) use the HE thin tubes which have an external screw fitting. Image of HE tube below.
The newest Phonak and Unitron hearing aids (Phonak Bolero M, Unitron Discover Next and NHS Phonak Sky M and Nathos Nova) use the SDS4 thin tubes with an internal screw fitting (Image of SDS4 tube below).
All Phonak tubes sizes are available as 0, 1, 2, 3 and SDS4 tubes are also available in size 00.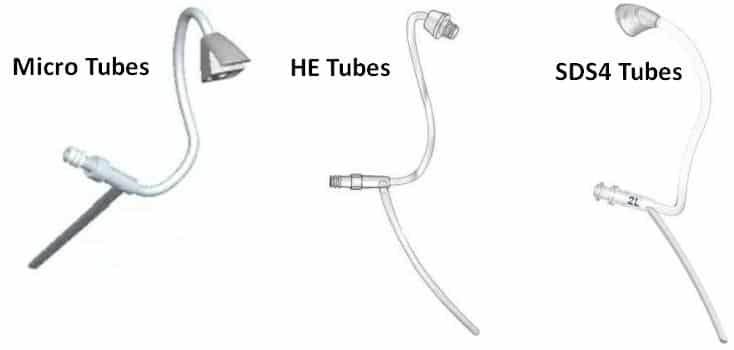 If unsure what type of tube to choose please contact us with your specific model of hearing aid (with serial number if you have it) for advice before placing your order. This information is printed on the inside spine of the hearing aid.
Please make sure you are confident which size and type of tube you are ordering as we can't accept tubes back that have been used due to hygiene considerations.
NB. You need to select from the drop down menus the type of tube, its size and also which side. At the end that points into your ear you will see a number, blue denotes a left tube, red denotes a right tube and the number itself is the size of the tube you need to order.
Domes are here, hearing aid not included! Please note, SDS4 tubes MUST be worn with SDS4 domes, all other Phonak thin tubes use SDS3 domes!