Widex RIC Domes – £9.95 per pack
Please note – we only ship to UK postal addresses.
Please take care when ordering that you know what size and type of dome you require. If in doubt please ask our advice or alternatively the company that supplied your hearing aids.
All domes come in packs of 10. The picture above shows from the top, Round Domes Small, Medium, Large, then Open Domes Extra Small, Small, Large, then Tulip Domes Medium and Large (Standard), then Power Domes Extra Small, Small, Medium, Large.
There are two versions of the Round Domes, the most popular being one vent and there is also a two vent dome version too. We stock both.
The design and the packaging of these domes changed a few years ago. Instead of a black blister pack the new packs are white, the design of the domes is different and also the colour. The domes changed from a clear to a dark colour, the idea being that the domes sit deep in the ear and the dark colour matches the shadow in the ear making them less noticeable. The new and old style domes are interchangeable. The older '1' receiver domes and Micro / Elan domes for thin tube products are not listed here but if you need them please email us your request.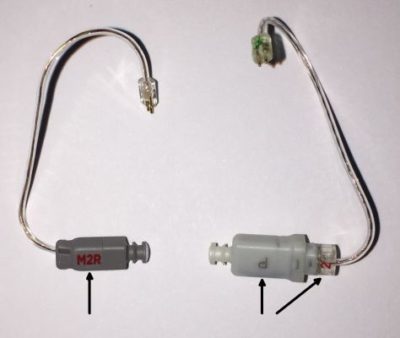 If you are wearing a Widex RIC hearing aid (with a receiver, or speaker in the ear, rather than sending sound down a thin tube), at the part that sits in your ear canal you will have a receiver with some detail printed on it (see image).
If the receiver housing is grey (or white but has the letter S, M or P printed on it) you can order from this listing.
If the receiver housing is white and has a number 1 printed on it you need a Type 1 dome and need to email us.
Examples of Widex RIC hearing aids are Widex Clear, Widex Dream, Widex Unique and Widex Beyond in variants of Passion, Fusion and Super.
If you are wearing a Widex thin tube hearing aid and were supplied pre 2016 then you may need a Micro / Thin Tube dome, so email us before ordering. If supplied 2016 or later and you are wearing a Widex Fashion or Fashion Mini with thin tubes then order the domes as per this listing.
Widex don't specify sizes in mm for their domes but the extra small open domes are approximately 6mm diameter at the base, small open domes are approximately 7-8mm diameter at the base and the large open domes are approximately 10-11mm at the base.
Double (power) domes are approximately 6mm for Extra Small, 8mm for Small, 10mm for Medium and 11mm for Large.
Widex have also recently introduced an extra size of Tulip dome, the old Standard size is now Large Tulip and there is a new size which is a little smaller, Medium. If you have used Standard tulip domes previously and find them good we suggest you order Large Tulip.
For all variants of Widex domes, they are available as per the product image above in these sizes;
Round domes – Small, Medium and Large in one vent and two vent versions
Open domes – Extra Small, Small and Large
Tulip domes – Medium and Large (Standard) Size
Double (power) domes – Extra Small, Small, Medium and Large
If you order the wrong size / type of dome but can return unopened and in a re-saleable condition we are happy to replace with the correct item, however we cannot accept opened packets that we cannot re-sell.