ReSound / Danalogic Thin Tube / Surefit 2 Tube – £5.95. When you select to purchase a left and a right tube at the same time a reduced price of £8.95 is available.
This listing is for a thin tube and NOT for a hearing aid.
Please note – we only ship to UK postal addresses.
Privately Supplied Hearing Aids
ReSound privately purchased hearing aids that use thin tubes after around 2008-2009 up to early 2015 (LiNX, Alera BTE, Verso, Vea, Live, Azure, Plus5, Xplore, Ziga and Essence thin tube products use the screw fit ReSound Thin Tube.
ReSound privately purchased hearing aids that use thin tubes from early 2015 onwards (LiNX2, LiNX 3D, LiNX Quattro and Enya) typically use the screw fit SureFit 2 Tube.
NHS Supplied Hearing Aids
NHS supplied ReSound / Danalogic iFit, iFit E, CS and UP thin tube products use the ReSound Thin Tube.
NHS supplied ReSound Ambio (typically supplied from 2019 onwards) can use either the newer SureFit 2 tubes or the older Thin tubes.
Please Note – Important – You must use the domes that match the tube worn. Thin tubes need to be matched to Thin tube tip domes and Surefit 2 tubes need to be matched to Surefit 2 domes.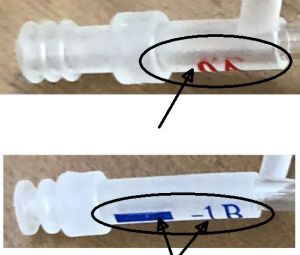 ReSound Thin Tubes vs ReSound Surefit 2 Tubes – You should be able to compare the images to the right to work out which replacement tube you need to order.
Thin Tubes are like the top image, once you remove the dome you see (in red or blue) a number and a letter, red denoting right and blue denoting left. In this example a right size 0A Thin Tube. Thin Tubes have 3 ridges at the tip.
Surefit 2 Tubes are like the bottom image, again in red or blue with a number and a letter,  but also a coloured line. The Surefit 2 example is a size 1B tube. Surefit 2 Tubes have 2 ridges at the tip.
NB. It is very important that you can see the difference between the two types of thin tube and either use Thin Tube Tip Domes with Thin Tubes or Surefit 2 Domes with Surefit 2 Tubes, they are not interchangeable. Domes are here.
Very old ReSound hearing aids – The ReSound Sound Tube is ReSound Air and ReSound Pulse compatible and has a pop on fitting. The ReSound Flex Tube is compatible with thin tube products like Metrix and Canta, and the older NHS Danalogic 6 series. These products were supplied up to around 2008-2009, if you need Sound Tubes or Flex Tubes please contact us in the first instance for advice.
Please ensure you know the correct size and depth (the numbers and letters will be printed in red (for right ear) and blue (for left ear) on your existing tubing.
If you are unsure please contact us with your model of hearing aid (with serial number if you have it) for advice before placing your order. Please be careful to make sure you know which size you are ordering as we can't accept tubes back that have been used due to hygiene considerations.
Please also note that if you are currently wearing hearing aids with thick tubing you will not be able to swap to thin tubing without adjustments being made to how the hearing aids are programmed. You also may not even be suitable for thin tubing because of your type of hearing loss and we advise you to consult with your local NHS department in the first instance if this is the case. Thick tubes vs Thin Tubes