Signia Styletto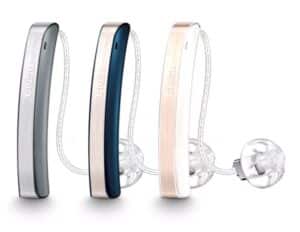 Beautifully designed, Signia Styletto is a RIC hearing instrument that combines style with high-tech hearing.
Styletto Connect is a game-changer in the looks department! Its refined slim-line styling is preferred by 8 out of 10 people compared to conventional hearing aids.
Signia Styletto is powered by Signia AX and is available in three performance levels – 7, 5 and 3.
Available in three contemporary color combinations: Dark Granite / Silver, Cosmic Blue / Rose Gold, and Snow White / Rose Gold.
Signia Styletto is Rechargeable
Signia Styletto easily provides full-day wearing enabled by unique lithium-ion batteries charging-on-the-go via a ultra-slim portable charging case.
Signia Styletto delivers an astounding four days (based on a 16 hour day) of use, free from plugs or cables.
Perfect for people who travel around a lot – a relaxing weekend getaway or an important business trip perhaps?
Own Voice Processing

Whether it's an intimate chat or a discussion with a group of good friends, you can enjoy every voice with true fidelity in the most natural sound quality, including your own voice. All thanks to the Signia AX platform's revolutionary Own Voice Processing (OVP).
Good company deserves to be heard. Styletto lets you unwind, helping you understand conversations with ease even in noisy environments such as busy restaurants. This best speech understanding in noise is powered by the energy-efficient Signia AX chip's superior wireless binaural processing.
From basking in the sound of live music to hearing loved ones as nature intended, Signia Styletto's crystal clear sound lets you enjoy a true-to-life listening experience in all situations. The extended dynamic range with an incredible 113 dB maximum input delivers excellent signal quality even in loud environments.
Tinnitus Management
Signia Styletto enriches life by tuning out all distractions – including tinnitus. It offers three different strategies against tinnitus. Static noise and ocean wave tinnitus therapy cover up the disturbing tinnitus sounds with individually tuned therapy signals. The third in-built option, Notch Therapy, treats tonal tinnitus inaudibly and unobtrusively for a truly peaceful experience.
Busy lifestyle? Changing environments? Whether on a conference call or presenting to colleagues, wearers can be sure that Styletto adapts to their lifestyle.
With Styletto you can use the myControl app (available on iOS and Android) for fine control of the hearing aids, including remote control of volume, focus, noise reduction etc