Important Information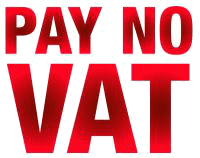 We can potentially supply some (mainly wireless) hearing aid accessories free of VAT to UK residents if certain conditions are met. (If you are resident outside the UK please refer to the notes at the bottom of this page).
The list of products this DOES NOT apply to includes hearing aids, hearing aid batteries, domes, wax guards, receiver wires, thin tubes, remote controls etc., the only time it can apply with products we supply is if it is specifically mentioned in the individual product listing.
If a product we supply is eligible for this specific dispensation it has to be for personal use only (with no business element), you must reside in the UK and be able to confirm this before shipment by completing the VAT Declaration below before we can ship.
Prices quoted on our website (where this concession is possible) are listed exclusive and inclusive of VAT. If there is no ex VAT price on the listing then zero rated supply is not an option.
If you purchase an item from our website at ex VAT prices and do not complete the VAT Declaration we must add VAT (currently 20%) to the purchase price before we ship (or wait until you complete the VAT Declaration). If you are a parent or legal guardian purchasing on behalf of a minor you must supply their full name as well as yours on the VAT Declaration.
For more information of the VAT Relief concession on the HMRC website click here. Eligibility for zero rate VAT as a UK resident is dependent on these factors;
As a hearing impaired person the disability has a long-term and substantial adverse effect upon ability to carry out everyday activities
The goods are for domestic or personal use – 'domestic or personal' use means that the supply must be made available specifically for the use of an eligible individual. (Excluded from the terms 'domestic' or 'personal', and not eligible for VAT relief include goods and services used for business purposes for instance.
The goods and services are eligible to be supplied at the zero rate – please note certain wireless accessories and NOT the supply of hearing aids / batteries / other accessories are included in this rule.
There is no requirement for you to be registered as disabled to take advantage of zero rated supply, you must simply complete the declaration form below.
If you feel you are eligible for this concession please complete the fields below and click 'Submit'.
VAT Declaration
Eligibility Declaration By Disabled Person For Zero Rated VAT Supply. Please note there are penalties for making false declarations!
If you are in any doubt as to whether you are eligible to receive goods or services zero-rated for VAT you should consult Notice 701/7 VAT reliefs for disabled people or contact the HMRC National Advice Service on 0300 123 1073 before completing the declaration.
Having trouble with the VAT Declaration?
If for any reason you are having trouble with the form above you can download a form – click here to print off and complete a VAT Declaration – you can then scan and email the completed form to us or even pop it in the post.
The form above is very quick and easy though, it takes less than a minute!
Once we have confirmation of your eligibility for this concession we will store your declaration on file for future potential VAT inspection.
If you are unsure about any aspect of the above or need clarification please contact us.
Outside the UK?
We are occasionally asked by customers outside the UK to supply goods minus VAT and nearly always it is not practical or cost effective to do this, but below is some information to clarify;
For Personal Customers – VAT is always included, there are no exceptions.
For Business Customers – Goods can be supplied to a business outside the UK and within the European Union with no VAT added if we are supplied with your EC VAT registration number including the 2 letter country prefix code. N.B. We MUST send goods ordered via courier with a full record of delivery to the address outside UK and inside the EU to comply with VAT exemption rules, this shipping method has to be built into the cost of supply and can be quite costly, therefore is only worth considering when ordering large volumes of product.
In the case of hearing aid batteries we would consider an appropriate amount a multiple of 6000 cells. If you think you might benefit from this you would need to email us your requirements for a quotation. We would consider each case on individual merit and would take into account the weight and value of the products shipped vs. the courier costs.
Personal and Business Customers – We can ship goods worldwide outside the EU with no VAT element but tend not to. Here is why; To do that we have to send the goods by courier with tracking and proof of delivery to a specific overseas address. However the high cost of a courier service compared to our normal shipping method (which we can not absorb and must pass on to you) tends to only make high value sales of multiple items into hundreds of £££ GBP cost effective for you as a purchaser to be supplied in this way. (Our normal shipping method is either Standard Airmal or Royal Mail International Signed For).
As a rough rule of thumb the goods purchased need to be in excess of £500.00 GBP before it starts to become viable for you / us to consider this. If you think you may fall into this category by all means contact us for a quote detailing the goods required and we will advise if it is viable and cost effective to supply less VAT taking into account the cost of a courier service that you will have to pay.