Widex RIC / RIE Receiver Wire – £49.95. When you select to purchase a left and a right wire at the same time a reduced price of £96.95 is available.
This listing is for a receiver wire and NOT for a hearing aid.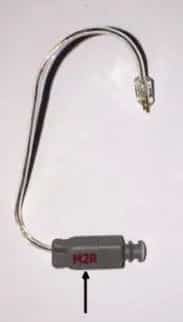 Please note – we only ship to UK postal addresses.
To work out which product to order you need to note which size and type of receiver you are using.
Most Widex hearing aids use an Easywear Receiver Wire v1 which has a grey housing as per the image to the right.
They are available in three power levels, Standard (S), Medium (M) and Power (P), along with four different lengths from 0 to 4.
In this instance M2R indicates a medium power level, a size 2 wire and for the right ear.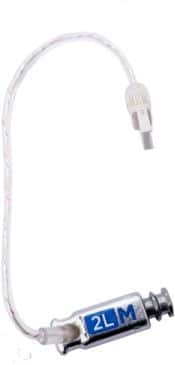 If you are wearing a Widex Moment rechargeable hearing aid ONLY the receiver housing will be silver metallic as per the image to the right. These two types of wires are NOT interchangeable, so if you think you might need a v2 receiver wire but are unsure please ask for clarification, once a pack is opened if it is ordered incorrectly we can't accept an opened pack back for credit as it is unsaleable.
Receiver wires v2 are available in two power levels of Medium (M) and Power (P), and with sizes from 0 to 4.
It is a very easy process to remove the old speaker wire and replace with a new one, simply tug the speaker wire gently away from the body of the hearing aid vertically and the wire should detach fairly easily. To put the new speaker wire onto your hearing aid the pins on the new speaker wire simply slot straight into the top of the hearing aid in the same slot you have just removed your old speaker wire from.
For a useful video showing this process click here
Please select from the drop down boxes the Receiver wire version, type of receiver (power level), wire size, and the side you require.
This listing is for a left wire, or a right wire, or a left and a right wire with some discount applied.
NB. Please take extra care to make sure you are ordering the correct item, even if not used Widex will not accept returns on these products from us, we are happy to help if you are unsure. (We'd rather you contacted us than guess the product and it be incorrect!).
Domes are here, hearing aid not included!