Oticon Real – Time to get more out of life!
Oticon Real, based on the Polaris R chip is the hearing aid with built-in intelligence to make more sense of sound.
MoreSound Intelligence™ 2.0 to access to all relevant sounds in a clear, complete, and balanced sound scene. Now includes Wind & Handing Stabilizer – exceptional at reducing wind noise and providing better speech clarity
MoreSound Amplifier™ 2.0 has rapid high-resolution amplification that follows changes in the sound scene. Now includes SuddenSound Stabilizer – SuddenSound Stabilizer can handle more than 500,000 soft and loud sudden sounds per day, and work fast and precise enough to preserve speech.
MoreSound Optimizer™ – Proactively prevents feedback from occurring, while preserving optimal gain all day.

Oticon Real is designed to support your brain
Oticon Real with BrainHearing™ technology is a revolutionary hearing aid that gives the brain more of the relevant information it needs to make better sense of sound.
This means you can get better speech understanding with less effort and the ability to remember more.
Take better care of your brain, and your brain will take better care of you.
Oticon Real:
Delivers more sound to the brain

Increases understanding of speech

Reduces listening effort so that you remember more of what is being said
Oticon Real with on-board Deep Neural Network
Oticon Real with BrainHearing technology takes hearing healthcare to a new level. Deep Neural Network (DNN) is embedded on the chip. This gives your brain more of the information it needs to decipher the intricate details of relevant sounds.
The DNN in Oticon Real is trained with 12 million sounds from real-life to recognize virtually all types of sounds to support your brain

Oticon Real works more like how your brain works because it learned through experience

Better speech understanding with less effort and the ability to remember more, even in noisy environments
More connections. More life.
Staying connected to family and friends is more important than ever. With Oticon Real, you also get a wide range of connectivity options for a high-quality listening experience in everyday situations so you can go through your day with more confidence and convenience.
Direct streaming from iPhone and select Android devices

Make hands-free calls from any smartphone or connect a remote microphone with ConnectClip

Stream sound directly from your TV with Oticon's TV adapter

Use Oticon's app for easy, discreet control over the hearing aid from your fingertips
Made for a full day's power
Superb sound quality with the style and groundbreaking features you want to enhance your life, all in one compact device. The new Oticon Real miniRITE R is a discreet lithium–ion rechargeable style that provides a full day of battery life including streaming after just three hours of charging.
Better hearing and speech understanding with less effort and worry free rechargeability for more convenience. That's Oticon Real.
No disposable batteries means less hassle and waste

Quick recharge of 30 minutes for an additional six hours of power
**Lithium-ion performance varies depending on hearing loss, lifestyle and streaming behavior
Expand your Oticon Real experience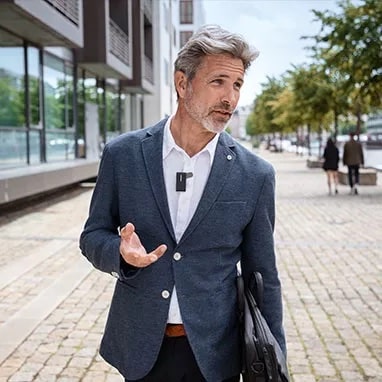 Make everyday connections easier
Turn your Oticon Real hearing aids into a wireless stereo headset with ConnectClip. ConnectClip uses Bluetooth® Low Energy technology to connect to your devices and its remote microphone functionality can really help with speech at distance and in noise.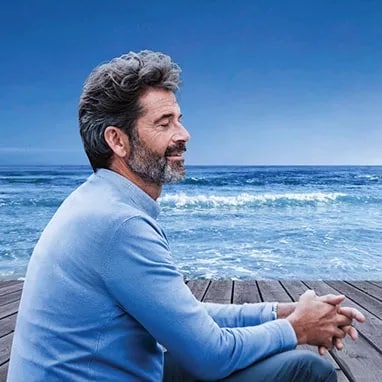 Tinnitus relief
Take back control and manage tinnitus symptoms with Tinnitus SoundSupport™. This feature offers a variety of relief sounds, including popular ocean‑like sounds that can be customized for your hearing needs.