Phonak Audeo P
Powered by Prism – Phonak Audeo P (Paradise) improves hearing without limitations. With every new Phonak product released the the boundaries of hearing technology are pushed to create solutions that deliver excellent sound quality, are easy to use and improve people's lives.
It's the result of years of extensive research and development all coming together in one marvellous piece of technology. Phonak have developed a multifunctional hearing aid that is truly groundbreaking;
Exceptional sound quality from the first fitting
Better speech understanding in noise
Reduced listening effort in noise
Top rated streamed sound quality
Brilliant speech understanding with personalized noise cancelling
Understanding someone who is speaking softly or from a distance in a quiet environment can be challenging. Speech Enhancer boosts soft-level speech so you are able to enjoy conversations with friends, colleagues and loved ones.
It sometimes takes effort to follow conversations when speech is coming from the front and noise is coming from the side and back. This can often vary depending on the type of room you are in, or even how you feel during that time. With the Dynamic Noise Cancellation you can personalize the amount of noise cancellation you want all in real-time – all through the myPhonak app.
Connectivity to smartphones (iOS and Android), TV and more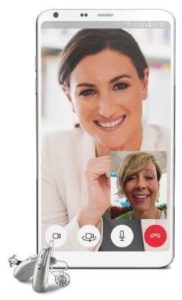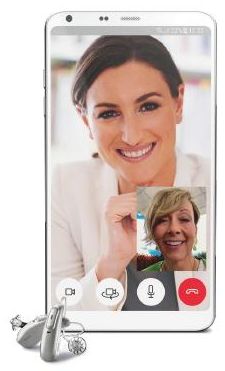 Phonak Audeo P streams any audio content from iOS and Android phones binaurally. You can enjoy hands-free calls using your hearing aids like wireless headphones. Made-For-All technology allows direct connectivity to Bluetooth enabled electronics, allowing you to stream music and listen to podcasts.
You can even connect to TVs or stereo systems for excellent speech understanding and sound quality. Using proprietary AirStream technology, the Phonak TV Connector is an easy plug and play solution that allows you to stream movies, shows, music and more! With the only hearing aids to classify streamed speech and streamed music signals, you can enjoy top rated streamed sound quality to both ears!
Phonak Audeo P and Roger Direct
Roger Direct is available to all Phonak Audeo P hearing aid wearers. Roger Direct technology works together with Phonak Audeo Paradise hearing aids to boost hearing performance over both distance and noise without an additional receiver.
Rechargeable models – Free yourself from the hassles of disposable batteries
Phonak rechargeable hearing aids were created to simplify your life. Phonak's groundbreaking built-in lithium-ion battery technology is tested to last 6 years. Longer than any other hearing aid manufacturers stated claims. And because it's a Phonak, you can always be assured of superior hearing performance.
Phonak rechargeable hearing aids are super quick charging. They give you 1 day of hearing with a 2 hour charge. If you're in a rush, you can rely on a short 15-minute charge to give you up to 3 hours of full performance. Plus, they come with easy-to-use smart charging options, to charge up wherever you are, without having to worry about running out of power.
Phonak has pioneered rechargeability in the hearing industry with the introduction of lithium-ion rechargeable batteries. Phonak Audeo P hearing aids are also available with this technology, making them quick to charge and long lasting. They switch on automatically when removed from the charger and turn off when placed back in the charging case. You can stay connected throughout the day, enjoying a full day of hearing including streaming.
Smart app
Through the myPhonak app, you can choose to share information with your audiologist, allowing them to customise your listening experience remotely and in real-time. This app offers real-time remote video support via a video call! Day to day you can use the myPhonak app to make fine tuning adjustments to your hearing aid performance, the ultimate taliored hearing experience!
Voice assistance access at a tap
Imagine answering phone calls, streaming or pausing music, and activating voice assistants just by tapping your ear. A motion sensor in Phonak Paradise offers you an effortless way to do all that and more. The built-in microphone allows you true hands-free calls and voice assistant activation. (Rechargeable models only at technology levels of 90 and 70).
So what makes Phonak Audeo P hearing aids unique?
Phonak Audeo P hearing aids provide exceptional sound quality from the first fitting and every day after that. This has been accomplished by taking the proven performance of their technology and improving it in every way. So that the hearing aids function as you expect, in even the most challenging environments.
Combining the clearest, richest sound with groundbreaking multifunctionality, the widest connectivity, best rechargeability and some really useful smart apps. The true uniqueness of Audeo P hearing aids comes from these technologies working and blending harmoniously together. All in one very smart instrument. Plus, even though they are packed with all these advancements, they are also incredibly user friendly.