Phonak Roger X universal receiver
Phonak Roger X is a miniature universal Roger receiver that is compatible with virtually every hearing instrument and cochlear implant speech processor on the market.
Simply connect Phonak Roger X with a Roger wireless transmitter to bring industry-leading speech-in-noise performance to any person with a moderate to profound hearing loss.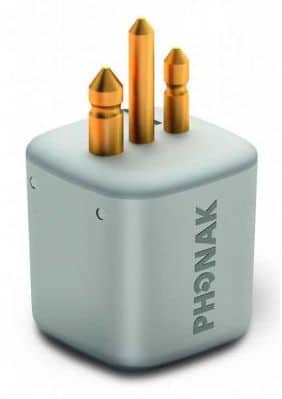 Phonak Roger X benefits from these features;
Industry's best ever speech-in-noise performance (proven improvements of up to 54% over other FM and digital systems, and 35% over Dynamic FM)
Additional adaptive gain
AutoConnect
Effective stand-by mode
Also available with 02 band;
EasyGain adjustment
Check to read/manage device data via Roger inspiro
Link quality measurement
Wider integration with other Roger products
Phonak Roger X is available in colour Champagne (Silver).
This product can be purchased on our sister website FM Hearing Systems by clicking this link which opens in a new window.