Cerustop Nanocare Wax Guards (packs of 8 ) – £3.95 for a pack of 8 wax guards. Discounts available when purchasing multiple packs as below. Common on Phonak, Widex and Unitron hearing aids.
2 Packs = 12% Discount
3 Packs = 16% Discount
4 Packs = 20% Discount
Also suitable for some Oticon RITE hearing aids using Litetips and MicroMoulds.
ReSound RIE products that have S, HP2, Surefit and M&RIE receiver wires use cerustops too, NP, HP and LP receiver wires use HF3 filters.
Can be considered an upgrade for the older standard Cerustop wax guards. They have the additional benefit of being moisture repellent, will fit any hearing aid previously using standard cerustops.
For some useful videos of how to replace this wax guard click here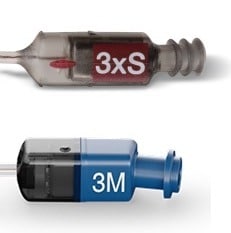 N.B. If you are using the latest Phonak Audeo Marvel and Paradise SDS 4.0 receiver wires you may need to choose Cerushield wax guards instead.
Nanocare Cerustop and Cerushield are incompatible with each other, the easiest way to check is to look at the tip of the Phonak receiver wire.
See the image to the right, if your receiver wire tip (once you remove your dome or custom tip) in appearance looks like the top image with the ridged effect (SDS 3.0), you should order Nanocare Cerustop.
If it looks like the bottom image (SDS 4.0) then you should order Cerushield.
N.B. The packaging for this product looks the same as similar wax guard products available for other manufacturers. Please note that Nanocare Cerustop, Starkey Hearclear and Siemens Signia miniReceiver wax Guards are NOT interchangeable.
Please note – we only ship to UK postal addresses.