Phonak SDS 4 Domes for Phonak Audeo Marvel – £9.95 per pack of 10 domes.
Please take care when ordering that you know what size and type of dome you require. If in doubt please ask our advice or alternatively the company that supplied your hearing aids.
The main image for this listing shows the 10 variants of domes, from left to right and top to bottom;
First line – Large Open Dome, Medium Open Dome, Small Open Dome
Second Line – Large Vented Dome, Medium Vented Dome, Small Vented Dome
Third Line – Large Power Dome, Medium Power Dome, Small Power Dome
Fourth Line – Cap Dome
If you order the wrong size / type of dome but can return unopened and in a re-saleable condition we are happy to replace with the correct item, however we cannot accept opened packets that we cannot re-sell.
N.B. These domes are suitable ONLY for SDS 4 receiver wires for Phonak Audeo Marvel and Paradise and NOT other Phonak receiver wires.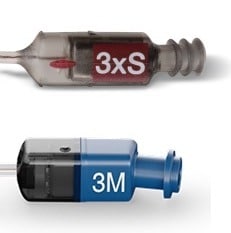 The two versions of domes available are incompatible with each other, the easiest way to check is to look at the tip of the Phonak receiver wire.
See the image to the right, if your receiver wire tip (once you remove your dome or custom tip) in appearance looks like the top image (with the ridged effect) you should order Phonak SDS 3 domes listed here.
If the receiver wire tip looks like the bottom image then you should purchase the domes on this listing.
(The new SDS 4 domes are only potentially available and suitable for Phonak M and P hearing aids supplied and fitted from end of November 2018, anything previous to that is definitely different domes as per this link).
Click here for a handy videoclip showing how to change a dome.