Phonak Wind and Weather Protectors – £12.00
Some Phonak BTE hearing aids have a filter to cover the microphone ports at the top of the hearing aid and also often a filter underneath the battery tray. These filters make the hearing aids water resistant but over time can become clogged.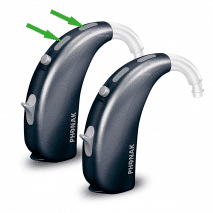 This dulls the response of your hearing aids and eventually cuts out all amplification. A simple change of filters will bring your hearing aids back to their former glory!
There are 10 replacement filters in a pack.
The long filters are suitable for Phonak Eleva, Eterna, eXtra, Una, Certena, Claro and Perseo BTE hearing aids.
The short filters are suitable for Phonak Savia ART, Exelia ART, Versata, Nathos and Naida BTE hearing aids. Also for use with ML10i and ML11i FM receivers.
Please select from the drop down menu the size required.
Please note – we only ship to UK postal addresses.