With Starkey Evolv, you'll enjoy superior sound clarity, comfort and universal connectivity. Thanks to a new technology called Hearing Reality, Evolv is designed to be effective in even the noisiest environments. It is comfortable in loud settings, and quiet in quiet settings and provides enhanced clarity of speech.
Starkey Evolv hearing aids work seamlessly and with various accessories to deliver superior sound quality, listening clarity and more natural hearing. You can stream phone calls, music and messages directly from your smartphone to your hearing aids.
The ITC R – standout product in the range!
The Starkey Evolv range of hearing aids really stands out anyway, but there is one variant within the range that really jumps out, the rechargeable custom ITC R (in the canal) model.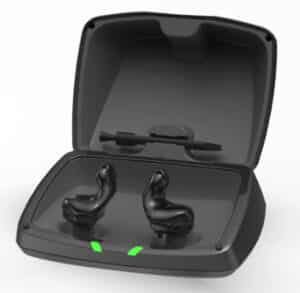 It has all the many benefits of Starkey Evolv technology, including being a rechargeable custom hearing aid and with connectivity to both the majority of Apple and Android phones, but uniquely within a custom 'in the ear' product.
We have been very impressed with all aspects of the Starkey ITC R, including little touches such as when inserting the hearing aids into the charger they magnetically attach to the charging pod. 
This combined with the fact there are no batteries to fiddle about with make the Starkey Evolv ITC R a winner for those with limited dexterity. Evolv ITC R has a Tap Control mode, two taps gives you access to various controls that we can set up for your convenience. This eliminates the need to press a fiddly button to access useful features.
Regardless of dexterity, Evolv ITC R is a real winner with all the underlying technology!
Starkey Evolv ITC R is a good option for mask wearers in these Covid times, to stop hearing aids pinging off into the distance every time you remove a mask!
The connection between health and hearing
Hearing health is directly connected to overall health and wellbeing. That's been proven, and it means that people who are able to hear can engage with the world around them and live better and healthier lives.
Increasing evidence also shows treatment of hearing loss with hearing aids can improve or limit some serious health issues like cognitive decline and dementia. Worryingly, adults with moderate to severe hearing loss are three to five times more likely to develop dementia. Adults with hearing loss can experience a 30 to 40 percent faster rate of cognitive decline than those with normal hearing.
Evolv AI is the world's first hearing aid to track brain and body health using integrated sensors and artificial intelligence.
Tracking devices that monitor physical activity already exist. Until now there has never been a device that tracks physical activity and cognitive health as measured by hearing aid use in social situations.
Most fitness tracking devices use the wrist, but the ear provides far more accurate data. In fact, it's an ideal spot for reliable tracking and Starkey Evolv AI is the first-ever device to take advantage of that. Compatible with both Android and Apple smartphones, Evolv AI provides you with a Body Score, a Brain Score and an overall score combining the two. Your Thrive Wellness Score.
Now people of all ages can take a proactive approach to their overall wellness by monitoring their activities.
Better Connectivity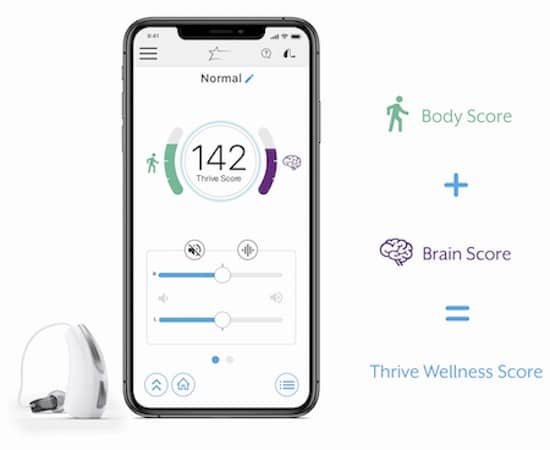 Starkey Evolv connects to your Apple and Android devices via Bluetooth technology and Starkey's easy-to-use Thrive Hearing app.
Thrive offers additional features designed to enhance your listening experience anywhere you go. It help you easily enjoy everything you do.
Remote Programming – Your hearing professional can make adjustments to your Starkey Evolv hearing aids remotely so you don't need a face to face.
You can make personalised, real-time adjustments to your Starkey Evolv hearing aids to suit your preferences in different listening situations.
Answer your calls with the touch of a button and hear an entire conversation streaming directly to your Evolv hearing aids via Bluetooth technology.
Using the remote control feature in the Thrive app you can change volume and switch memories on your hearing aids right from your smartphone.
You can create multiple custom memories in the Thrive app by using any of the customise options. You can even geotag memories.
A geotagged memory will use GPS and cellular towers to recognize where you are and automatically adjust your Evolv hearing aids when you enter that space. For instance, a geotagged "coffee shop" memory will automatically activate when you walk into your favorite coffee shop.
Auto Experience Manager – Automatically adjusts your Evolv hearing aids' loudness over time. This helps you transition to your new hearing experience in the most comfortable way possible.
Live Microphone – Simply set your smartphone nearby, turn on the microphone feature and stream conversations directly to your Evolv hearing aids. You can also record, play back and email audio as it happens or save recordings to listen to later.
Find My Hearing Aids – Easily locate lost hearing aids using the Find My Hearing Aids feature, with both a location and timestamp. A signal detector sends a stronger or weaker signal based on how close you are to locating your Evolv hearing aids.
Real-Time Notifications – Notifications for phone calls, texts, emails or other apps can be streamed directly to your Evolv hearing aids.
Adaptive Car Mode – Evolv hearing aids will automatically change to a setting designed to reduce the annoying sounds of driving and enhance your overall driving experience.
Fall Alert – can detect falls and send alert messages to selected contacts.
Self Check – Allows you to perform a diagnostic test of your hearing aid components.
Voice-to-text Transcription – It's like closed-captioning for real life. Conversations are transcribed so you can read what's being said.
Starkey Evolv has some brand new wireless accessories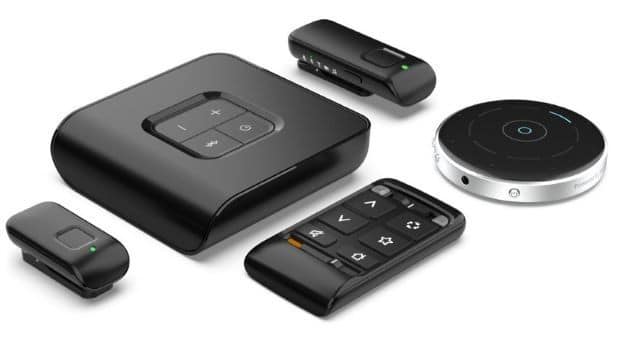 Starkey Remote – The new remote includes updated features so you can control memory and volume, mute your hearing aids and turn other special features on and off.
Starkey Remote Microphone and Mini Remote Microphone – You can easily stream from a variety of audio sources. With Remote Microphone, Evolv features Amazon Alexa connectivity.
Starkey TV – Stream audio from your TV or other electronic audio source directly to your Evolv hearing aids. It offers excellent sound quality, is easy to use and supports both analogue and digital input sources.
Starkey Table Microphone – Designed for group settings like meetings, family gatherings or noisy restaurant environments. Place it in the centre of a table and it will use the eight built-in microphones to determine the primary speaker's voice and stream it directly to your hearing aids.
Other things of note….
Starkey's best-in-class feedback cancellation system providing feedback-free, comfortable listening all day long.
Surface NanoShield, our pioneering water, wax and moisture repellent system, to protect and ensure durability and dependability.
Advanced Multiflex Tinnitus Technology, adjustable via the Thrive app, to bring relief to those who suffer from ringing in the ears.
Evolv AI hearing aids are the only rechargeable hearing aids enhanced with integrated sensors, artificial intelligence and Healthable technology.